Jones Center on Congress Avenue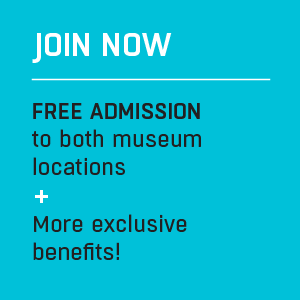 When you visit The Contemporary Austin – Jones Center, you are greeted by a glittering work of art floating above the roofline and visible from the street below. This now-iconic sculpture, Jim Hodges's With Liberty and Justice for All (A Work in Progress), sets the stage for what you will experience inside: a dynamic schedule of exhibitions in nearly 8,000 square-feet of museum space.
Designed by architect Paul Lewis of Lewis.Tsurumaki.Lewis, The Contemporary Austin – Jones Center includes two floors of exhibition space and a stunning rooftop deck—the Moody Rooftop—home to exhibition-related films, performances, family programs, and tours, along with some of the most creative private events in the city.
Visit our events calendar for information on upcoming workshops, films, and other museum programs.
Visit The Contemporary from Home to enjoy virtual tours of current and past exhibitions at the Jones Center on Congress Avenue.
Shop at The Contemporary
The Shop at The Contemporary features a unique selection of artist-designed merchandise and other handpicked products from around the world. These include art supplies, games, books, home wares, and exclusive exhibition-related items that visitors and shoppers have come to seek in a modern, design-forward museum gift shop. All sales directly support The Contemporary Austin's exhibitions and programs.
Museum members receive a 10% discount at the Shop at The Contemporary. Join Now!
 
The Shop is now online! Visit us here to start shopping today!
The online shop includes a curated selection of the items we offer onsite. Check back often as we continue to update the online shop with more of our favorites! We currently offer domestic shipping via USPS, as well as free contactless delivery within the Austin area.
SHOP NOW
 
Have a question about the Shop at The Contemporary? Contact shop@thecontemporaryaustin.org today!